St. Macartin's Cathedral
Enniskillen
---
---


Welcome to our website! Whether you are a regular member, occasional visitor or just simply curious, we hope you will find information here that will be interesting and relevant. Perhaps you are planning a trip to Northern Ireland. We would strongly advise making beautiful County Fermanagh part of your itinerary. During the summer our four-century-old church is open to visitors every day and it would be even nicer if you could attend one of our services. We'd love to meet you!
The Dean Writes:

Dear Parishioners and Friends around the world,

During Lent, we enter into a season of preparation, self-reflection and repentance when we seek to literally 'turn around' and
realign our lives and focus towards God. It is a time to give up things as well as take on new life-giving practices, helping us
rid ourselves of distractions and our own selfish desires. By doing so, we seek to live and love as more faithful disciples of Jesus.

In its most traditional form, Lent serves as a time of preparation in the run-up to Easter and is observed from Ash Wednesday to Easter Sunday. The bright colours which followed Christmas will be replaced by the more sombre colour of purple, and the hymns will also reflect the mood of the season. On Easter day the brightness of the flowers, the church colours, the hymns of praise with the Gloria and Alleluias reinstated will add to the joy and celebration of the day!

Many Christians draw inspiration from the account of Jesus being tempted in the desert, where for forty days, Jesus was tempted by the devil. He ate nothing and at the end of the time 'was hungry'. For Jesus, this time in the desert is seen as the start of His ministry. It was for Him, a time of preparation.

Lent should not be viewed as a legalistic or compulsory act, rather as a fantastic opportunity to set time apart for spiritual cleansing, renewal, and preparation in our own lives. Speaking to our own members, during Lent in our cathedral, as well as the Sunday services there are two other midweek services at 7.30pm on Wednesday nights and at 11.00am on Thursday mornings. Maybe you could attend one (or both!) of these? They only last thirty minutes! The Iona Room (Prayer Room) is open from 8.30am to late Monday to Friday – see the article on pages 10 and 11 of our magazine (available on-line if a paper version isn't to hand).

Use the season of Lent to re-connect with your Bible and with prayer. A good start may be to read over the events in the Gospel accounts which build up to Holy Week - Christ's arrest, trial, crucifixion and glorious resurrection. Focus your attention on the suffering that Christ went through, and the purpose of that suffering. Explore Christ's amazing grace and love. In view of this why not pause to consider your own faults and spend time in prayers of confession and repentance? Use the Reflections for Lent that are available from the Cathedral Office or Cathedral Porch – see page 7 in the magazine.

During Lent many will often fast from a meal or a luxury item and replace the time they would have spent eating, with prayer. Christians believe that because it was the sin of man that led Jesus to be crucified, Lent should be used as a time to reflect on the significance of Christ's death, both for humanity as a whole, and for their own lives. Furthermore, the season should serve as a time of self-examination and confession of sins, of overcoming faults through penance, self-denial from certain items (fasting), of prayer and repentance, and of financial giving.

If you are giving up things for Lent why not put the money you save to good use? Give it away or be a little more generous with what you give to your church. If we are true to Christ's teaching we should be more generous to His work. Why not set yourself the target of doing one random
act of kindness each day? For our own members, why not support our Sunday Lights (formerly Sunday School) Lenten Appeal? – see page 8.

Finally, why not make every effort to support all our special events this month? The Mrs Cecil Frances Alexander Services on 10th March, St Patrick's Day Services and Mothering Sunday Service. We have a very busy parish with lots of activities, but nothing is successful
without a good attendance so please make every effort to be there! Don't forget the Variety Choir Concert (Cathedral Choir Capers) on Friday 29th March – you can be doubly assured of an excellent night!

Let us all have a holy and refreshing Lent, wherever you are in the world and God bless you!

Yours very sincerely,

Kenneth R J Hall



Last updated 25th February 2019
Search for any word
on this website:
---

---

---
If you like Christian rock music, you may well enjoy listening to Spirit Radio, broadcasting from the Irish Republic. The station is rapidly expanding its network of FM transmitters to reach larger cities in the State but there is also Medium Wave coverage on 549 metres (545KHz), accessible in most of the Republic and in all of Northern Ireland. Its website is at
https://www.spiritradio.ie/
and you can listen on-line at
http://streamdb5web.securenetsystems.net/cirrusencore/SPIRITIE?stationCallSign=SPIRITIE
(or click on the icon beside this text).
Admittedly, its greatest music appeal would be to people in the age range 15-35, but there are also inspirational messages, information features and news bulletins with at times a distinctly Christian slant. It is entirely non-denominational.
A Cathedral Concert not to be missed!

"Choir Capers" will take place in the Cathedral Hall on Friday 29th March and is entirely staged by our Cathedral Choir which will perform a mixture of spiritual and secular pieces and other items as well! 100% of the proceeds will go to the Fabric Fund.

Entry to the concert is by subscription of £10 - tickets are available from the office, members of the Select Vestry and churchwardens.
---
---

Ash Wednesday and Lenten Services

ASH WEDNESDAY 6th March 7.30pm - Penitential Service with Holy Communion

Each year, Ash Wednesday marks the beginning of Lent and is always forty-six days before Easter Sunday. Lent is a forty day season (not counting Sundays) marked by repentance, fasting, reflection, and ultimately celebration. The forty-day period represents Christ's time of temptation in the wilderness, where he fasted and where Satan tempted him. Lent asks believers to set aside a time each year for similar fasting, marking an intentional season of focus on Christ's life, ministry, sacrifice, and resurrection. Ash Wednesday starts Lent by focusing the Christian's heart on repentance and prayer, usually through personal and communal confession.

Wednesday 13th March at 7.30pm - Compline
Thursday 14th March at 11.00am - Holy Communion
Wednesday 20th March at 7.30pm - Compline
Thursday 21st March at 11.00am - Holy Communion
Wednesday 27th March at 7.30pm - Compline
Thursday 28th March at 11.00am - Holy Communion

Details of later services, including those for Holy Week, will be posted here towards the end of March.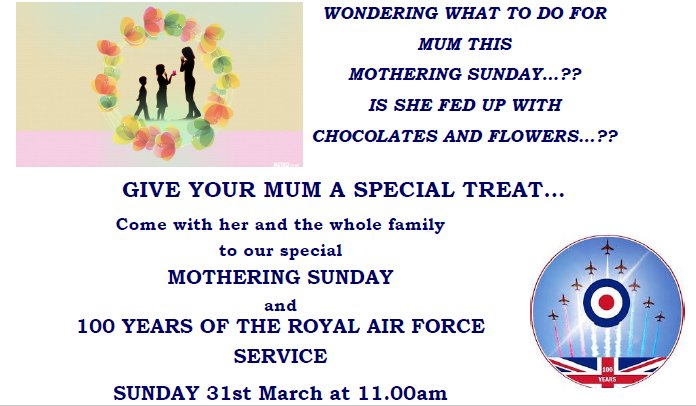 ---