St. Macartin's Cathedral
Enniskillen
---
We have launched a gallery of church related photographs hosted on the Google Photos Website, starting with albums relating to events in 2016 and 2017. Other albums will follow. To access them on PC, Apple computer, smart phone or tablet, click HERE for 2016 and HERE for 2017. When the album loads, click on any one photo and it will enlarge and display singly. You will see buttons at the top right which give you controls such as zoom and run a slideshow. A button with an "i" on it will display information about the photograph where appropriate. Your feedback - and new photographs - would be appreciated!
---
---


Welcome to our website! Whether you are a regular member, occasional visitor or just simply curious, we hope you will find information here that will be interesting and relevant. Perhaps you are planning a trip to Northern Ireland. We would strongly advise making beautiful County Fermanagh part of your itinerary. During the summer our four-century-old church is open to visitors every day and it would be even nicer if you could attend one of our services. We'd love to meet you!
The Dean Writes:

An extract from the Deanís address to The Easter General Vestry

Dear Parishioners and Friends around the World,

This time last year we started on a journey of faith for the future. We decided to enter into a major refurbishment of our Cathedral Hall Ė and here we are sitting in the most wonderful surroundings! The Select Vestry, I think, understood that this was a monumental undertaking but it is not without precedent. Just over fifty years ago the then Select Vestry and the congregation gathered around a seemingly mighty project to build the original Cathedral Hall. It was because of their vision and sacrifice we, todayís church, had a magnificent starting ground. The truth is that most of our parishioners today donít remember those days, but a few do. Those of us who worship here today are enjoying the benefits of their sacrifice and labour. The journey we were on, and are still on, will with Godís help provide the same benefits for the generations that follow us. However we cannot sit back and admire our beautiful Cathedral Hall, we must together put ĎFaith into actioní and do something to make use of our new surroundings to build and expand Godís Kingdom here in Enniskillen!

This is my seventh Easter General Vestry and during that time I have a growing realisation that if we are to be used by God we must do three things: We must expect great things from God knowing that nothing is impossible with God. We must attempt great things for God by risk, sacrifice, and pushing outside the box. We must ask great things from God knowing without Him this is useless.

As we venture forth on this great faith adventure together I want to take you back to the life of a great builder and leader of Israel who faced a daunting task of rebuilding not only the wall around Jerusalem but also the people of Israel who were in bondage. His name was Nehemiah. Nehemiah teaches us that building something great for God requires many things including sacrifice, risk and venture!

God is not calling us to build a building, He is calling us to build a ministry Ė a ministry for all, from the very young to the not so young to include the vulnerable, the isolated and maybe those loved only by God! Parishioners, Iím not willing to risk what I have to risk, give what I have to give, or do what I have to do for a building, but I am willing to do anything to reach people for the kingdom of God. Nehemiahís heart cared for all!

What did Nehemiah do first? He prayed, fasted and planned. He knew that with man it was impossible but with God all things are possible. Every step of the way, Nehemiah depended on God. Nehemiah did the possible (he planned) but God did the impossible (He provided). So it will be with us, we will do the possible and trust God to do that which is impossible. The truth is that any great task requires an investment of all the people. Everyone had to step up and be counted in Nehemiahís plan, each one had to play his part. Each one had to sacrifice, each one had to labour, and each one had to hold a spear in one hand and a trowel in the other. So it is with us. If we are to accomplish something great for God we are all going to have to find our place, all going to have to sacrifice, all going to have to use our gifts, talents, abilities, all going to have to work together because together we can be more than we can be alone. When Nehemiah had rebuilt the wall, he had restored the people, and he had rebuilt the city of Jerusalem. However none of that was the most important accomplishment. The most important thing about the rebuilding of Jerusalem is not the physical journey but the spiritual journey. That must be true for us as well.

To build a magnificent Cathedral Hall is a great accomplishment. To build our faith, love, and commitment to God is an eternal accomplishment. The journey we have begun is far more than plaster and nails. It is a spiritual journey to accomplish a vision and expand our ministry, to reach people for God, and to fulfill the great commission of Christ.

Let us now use our new Cathedral Halls to the full extent, with every means possible, with every imaginative idea and in so doing continue and fulfil ĎOur Visioní of Saint Macartinís at the heart of the Community Ė Strengthening Commitment, Outreach, Worship and Christian Love.

Where do you stand on Godís scheme of things? Will you embrace the challenge of a work that is beyond us in 2017? Will you give more of yourself this year than you have in the past?

The Lord can do mighty things through a people unwilling to settle for less!

Yours very sincerely,

Kenneth R J Hall
Last updated 4th May 2017
Search for any word
on this website:
---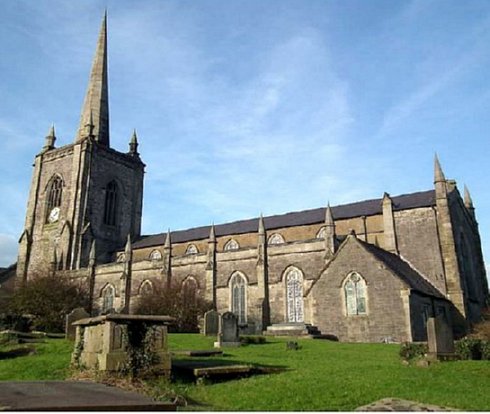 ---
Scroll down to find links to our photographic gallery. 2017 is now live.