St. Macartin's Cathedral
Enniskillen
---
We have launched a gallery of church related photographs hosted on the Google Photos Website, starting with albums relating to events in 2016 and 2017. Other albums will follow. To access them on PC, Apple computer, smart phone or tablet, click HERE for 2016 and HERE for 2017. When the album loads, click on any one photo and it will enlarge and display singly. You will see buttons at the top right which give you controls such as zoom and run a slideshow. A button with an "i" on it will display information about the photograph where appropriate. Your feedback - and new photographs - would be appreciated!
---
---


Welcome to our website! Whether you are a regular member, occasional visitor or just simply curious, we hope you will find information here that will be interesting and relevant. Perhaps you are planning a trip to Northern Ireland. We would strongly advise making beautiful County Fermanagh part of your itinerary. During the summer our four-century-old church is open to visitors every day and it would be even nicer if you could attend one of our services. We'd love to meet you!
The Dean Writes:

Dear Parishioners and Friends around the world,

Harvest Services are all about giving thanks and are opportunities to gather together to thank God for all that we have. At this
time of the year, as much as any other time, it is good to focus on what we need and what makes us happy. I say this because
obviously we live in a society where instead of being thankful, we are becoming more and more demanding. The more we have does not mean the happier we are. Often the more we have the more we seem to need!

Our forefathers were not so much thankful for what they had but rather they were thankful in whatever situation God allowed them to be in. When they had a lot, or when they had a little they were thankful. It was just a way of thinking! At the time of festivals or in famine they were thankful. In joy or in misery they were thankful. There is a big difference between being thankful 'for' things and being thankful 'in' all things.

The hymn "Now thank we all our God" was written in 1637 by Martin Rinkart. Rinkart was a Lutheran minister, in Eilenburg, Germany, during the Thirty Years' War. The walled city of Eilenburg saw a steady stream of refugees pour through its gates and soon the Swedish army surrounded the city. Famine and plague soon broke out. It is said that in 1637 when Rinkart wrote this hymn, he buried 4,480 people in Eilenburg, including his wife and his children, who had died of the plague. It is a testament to his faith that, during such misery, he was able to write a hymn of abiding trust and gratitude toward God.

Now thank we all our God, with heart and hands and voices,
Who wondrous things has done, in whom this world rejoices;
Who from our mothers' arms has blessed us on our way
With countless gifts of love, and still is ours today.

O may this bounteous God through all our life be near us,
With ever joyful hearts and blessed peace to cheer us;
And keep us in His grace, and guide us when perplexed;
And free us from all ills in this world and the next.

All praise and thanks to God the Father now be given,
The Son, and Him who reigns with them in highest heaven adore
The one eternal God, whom earth and Heav'n adore;
For thus it was, is now, and shall be evermore.

The Christian faith affirms that in the midst of everything – in death, in loss, in hardship – we are to be thankful to the Lord. Of all we have or receive the most precious thing is that God blesses us with an abundance of love, and may we share that love with each other.

Yours very sincerely,

Kenneth R J Hall
Last updated 2nd October 2017
Search for any word
on this website:
---

Scroll down to find links to our photographic gallery. 2017 is now live.
---
---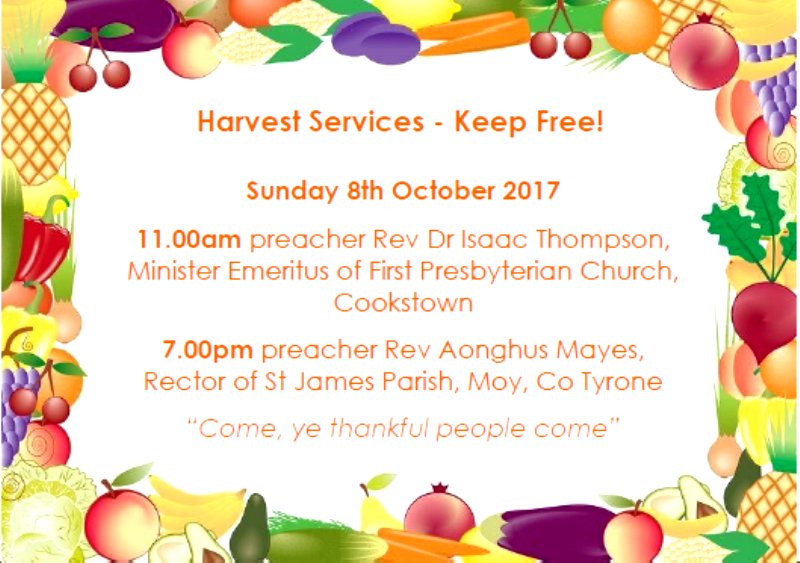 ---
It is with great sadness that we announce the death on Wednesday 27th September of Mr Stewart Scott after a long illness. A gentleman of a very quiet disposition, Stewart led our faithful band of bell-ringers for many years and in his time instructed many newcomers in the art of campanology.

Stewart's funeral service was held in the Cathedral on Saturday 30th September, followed by burial at Rossorry Church Yard.

We would extend the sympathy of the whole church to Joyce and to all his sorrowing relatives and friends.