St. Macartin's Cathedral
Enniskillen
---
---


Welcome to our website! Whether you are a regular member, occasional visitor or just simply curious, we hope you will find information here that will be interesting and relevant. Perhaps you are planning a trip to Northern Ireland. We would strongly advise making beautiful County Fermanagh part of your itinerary. During the summer our four-century-old church is open to visitors every day and it would be even nicer if you could attend one of our services. We'd love to meet you!
The Dean Writes:

Dear Parishioners and Friends around the world,

'Should we stay or should we go?' has been the focus of many news reports and many conversations. Since the Referendum
in June 2016, we have seen families, our nation and Parliament divided by different opinions over Europe. But at the heart
of the Christian message is Jesus' command to love our neighbour. This includes those with whom we agree and disagree: at home, in
Europe and further afield.' (C of E Bishops, December 2018).

As we celebrate St Valentine's Day this February, how can we conduct this debate in a loving way? The Apostle Peter reminds us: 'Show proper respect to everyone, love the family of believers, fear God, honour the Emperor.' (1 Peter 2:17).

Respect everyone: However much we may disagree with another person's perspective, we should respect them as a person. This applies even if they do not respect our views!

Love the church: Among the family of believers there should be an even greater respect for each other! The way we treat each other not only reveals the depth of our love; it will also cause people to glorify God and want to be part of the family of God.

Fear God: We must demonstrate our allegiance to God by putting Him first and following His leading. Of course, this does not stop Christians from having different opinions to each other.

Honour those in authority: We are called to honour those who are in authority over us 'for the Lord's sake' (verse 13). Even when we disagree with their decisions and actions, we should give them respect and not speak ill of them.

St. Peter is calling us to live with the freedom to make up our own minds on Europe, while listening to what others say (verse 16).

'A Christian is a perfectly free lord-of-all, subject to none. A Christian is a perfectly dutiful servant-of-all, subject to all.' (Martin Luther).

Yours very sincerely,

Kenneth R J Hall

PS: For our own parishioners, make sure you read 'Updating Parish Records' on page 15 of the February magazine. It is important that a large Parish like ours has up-to-date and accurate records. It is also important that parishioners who claim membership of the Cathedral make every effort to attend church (if able) and also make some contribution to the House of the Lord. It is the duty of every Christian to do so! The Clergy and Diocesan Pastoral Assistant are always ready and willing to help so please feel free to contact them at any time.

Last updated 28th January 2019
Search for any word
on this website:
---

---

---
If you like Christian rock music, you may well enjoy listening to Spirit Radio, broadcasting from the Irish Republic. The station is rapidly expanding its network of FM transmitters to reach larger cities in the State but there is also Medium Wave coverage on 549 metres (545KHz), accessible in most of the Republic and in all of Northern Ireland. Its website is at
https://www.spiritradio.ie/
and you can listen on-line at
http://streamdb5web.securenetsystems.net/cirrusencore/SPIRITIE?stationCallSign=SPIRITIE
(or click on the icon beside this text).
Admittedly, its greatest music appeal would be to people in the age range 15-35, but there are also inspirational messages, information features and news bulletins with at times a distinctly Christian slant. It is entirely non-denominational.
Two Cathedral Concerts not to be missed!


The first of two musical treats this spring is entitled "Resonance", featuring a choir and orchestra and will be performed in the cathedral by Toccata Musical Productions, which was founded in 2005 to help the Tsunami victims. This organisation has enthralled music lovers with world class productions, performing music from genres like Gospel, Country, Pop, Rock and Opera. You can get a flavour of what to expect by clicking
HERE
. By attending, you will not only enjoy an excellent evening of entertainment, you will also be contributing financially to maintenance of our cathedral, as 50% of the proceeds will go to church funds.
The second concert will take place in the Cathedral Hall and is entirely staged by our Cathedral Choir which will perform a mixture of spiritual and secular pieces and other items as well! 100% of the proceeds will go to the Fabric Fund.
Entry to each concert is by subscription of £10 - tickets are available from the office, members of the Select Vestry and churchwardens.
---
---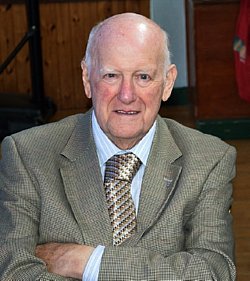 It is with sadness that we report the death of a long term and faithful parishioner Harry Weir, who died on 31st January at the Graan Abbey Nursing Home, Enniskillen where he had been a resident for some time. In earlier times he was to be seen nearly every Sunday morning in the penultimate pew at the back of the cathedral. His warm smile and cheerful disposition was a blessing to many.

Late of Drumlin Heights, Enniskillen, Harry was the beloved husband of the late Lily, dearly loved father of Lynne (Terry), dear brother of the late Gordon, uncle to Kenneth, Valerie and the late Adrian and brother-in-law to Victor and Joyce. Friends and neighbours are welcome to call and meet family members at Ballycassidy House Funeral Home, 101 Killadeas Road, Enniskillen, BT94 2ES on Friday 1st February between 6.00pm- 8.30pm. The funeral service will be held in our cathedral on Saturday at 12 noon, where a very large attendance is expected and will be followed by burial in Sydare Cemetery. He will be lovingly remembered by his family and all the family circle.

As a church, we would express our sincere condolences to all who mourn his passing.