St. Macartin's Cathedral
Enniskillen
---
---


Welcome to our website! Whether you are a regular member, occasional visitor or just simply curious, we hope you will find information here that will be interesting and relevant. Perhaps you are planning a trip to Northern Ireland. We would strongly advise making beautiful County Fermanagh part of your itinerary. During the summer our four-century-old church is open to visitors every day and it would be even nicer if you could attend one of our services. We'd love to meet you!
The Dean Writes:

Dear Parishioners and Friends around the world,

The Summer months will be a very special and important time in the life and history of our parish. We will begin a period of
engagement with all our parishioners which we pray will be the beginnings of a new and exciting relationship for us with God,
the Church and the wider community.

There are several reasons:

Firstly, it is an opportunity to show a commitment in Christian love to you by acknowledging your importance to God as a parishioner in this parish. You and your family matter to God, to the parish and to your fellow parishioners.

A second purpose is to make sure we have updated records in order to meet the current Charity Commission requirements and the new Data Protection regulations, and your permission to hold the same. The information about you and your family will be useful and relevant to us as we plan for the future. We hope to take a snapshot of the parish in 2019 and use the information we collect to plan how best we can further the Kingdom of God in Enniskillen over the next years.

A third purpose is to ask you what you can offer to the parish as a commitment to fuller and more active involvement. A parish of this size requires much back-room activity to stay alive and this is where you can be of greatest value. Yes, we will be talking about money and about sustaining or growing your contribution to ensure the financial health of the parish in the future but we are also asking you about other ways you can help with your talents and expertise. Any offer of help will be valued and appreciated.

The generosity of Saint Macartin's parishioners is never taken for granted and many give freely and willingly to God's work.

Over this past few years we have had a lot going on – the Cathedral Hall renovations took priority and that has resulted in the magnificent premises we now have, rated among the best in the country. However, that has dented our finances heavily! We are conscious that the Cathedral roof repairs are looming ever closer, and, of course, we have to meet the ever-increasing costs of running a busy, vibrant parish.

I realise that people lose touch with church and with God in their lives for a multitude of different reasons and that it is sometimes difficult, as time goes on, to re-establish those connections. I hope in some way this will be an opportunity for you to take the first steps in reawakening your relationship with God. You can be assured of a warm welcome in St Macartin's at any time and also of a caring pastoral response in time of need, regardless of the situation or circumstance!

The life of a parish is dynamic...
"...continuously changing, growing, or developing"
"...characterized by energy or effective action so please help to make sure we continue with……..

St Macartin's – At the Heart of the Community
Strengthening Commitment, Outreach and Christian Love

Yours very sincerely,

Kenneth R J Hall
Last updated 17th June 2019
Search for any word
on this website:
---

---

---
If you like Christian rock music, you may well enjoy listening to Spirit Radio, broadcasting from the Irish Republic. The station is rapidly expanding its network of FM transmitters to reach larger cities in the State but there is also Medium Wave coverage on 549 metres (545KHz), accessible in most of the Republic and in all of Northern Ireland. Its website is at
https://www.spiritradio.ie/
and you can listen on-line at
http://streamdb5web.securenetsystems.net/cirrusencore/SPIRITIE?stationCallSign=SPIRITIE
(or click on the icon beside this text). And if Alexa lives with you, say,
"Alexa! Play Spirit Radio Ireland!"
Sometimes she lies and claims no knowledge of the station. Just persist!
Admittedly, its greatest music appeal would be to people in the age range 15-35, but there are also inspirational messages, information features and news bulletins with at times a distinctly Christian slant. It is entirely non-denominational.
---
---
Confirmation 2019

It was a highlight of the parish year to see fifteen of our young people confirmed on 19th May by the Bishop. We are so proud of our newly confirmed, and we look forward to seeing them continue to develop and find their places in God's family. Sincere thanks to sponsors who brought these young people for confirmation and for great support in bringing them to church services, preparation classes and Xplore nights.
Xplore is our post-confirmation youth group, and we hope they will keep coming. Remember to check out the Instagram group xplore_youth_group for details of what's happening.

In the words of Saint Paul: For this reason I remind you to fan into flame the gift of God, which is in you through the laying on of my hands. (2 Timothy 1:6)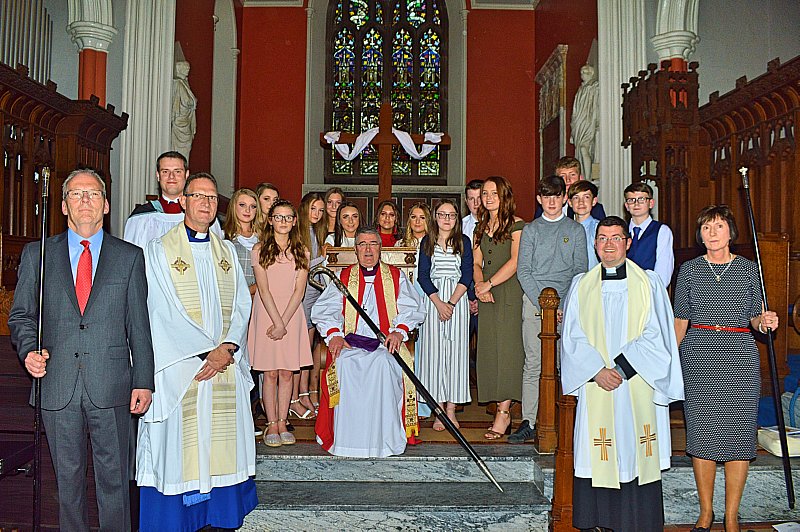 Photographed with the Bishop are Leanna Brown, Keri Elliott, Iain Fleming, Jessie-Ann Gault, Joshua Lee Gault, Oliver Hamill, Reece Holmes, Ellie McDonald, Casey Millar, Tori Millar, Victoria Murray, Jessica Palmer , Isla Rowland, Abigail Sque and Matthew Vance. Also in the photo are Churchwardens David Graham and Rosie Woods, the Dean, the Curate and clerical assistant Scott Elliott.
Photograph by William Holmes
---
The BBC's "Songs of Praise" is compiling a list of viewers' top 100 favourite hymns. W'd like to suggest that as many people as possible in Fermanagh vote for one strongly linked to Enniskillen, namely "Abide with Me". It was written by Henry Francis Lyte, who was a pupil in what eventually became Portora Royal School. Over the years it became so popular that for a long time it has been sung every year before the FA Cup Final. You may only vote once, but why not encourage friends to do the same? Voting is easy - click HERE