St. Macartin's Cathedral
Enniskillen
---

NEW: We are launching a gallery of church related photographs hosted on the Google Photos Website, starting with an album relating to events in 2016. Other albums will follow. To access it on PC, Apple computer, smart phone or tablet, click HERE. When the album loads, click on any one photo and it will enlarge and display singly. You will see buttons at the top right which give you controls such as zoom and run a slideshow. A button with an "i" on it will display information about the photograph where appropriate. Your feedback - and new photographs - would be appreciated!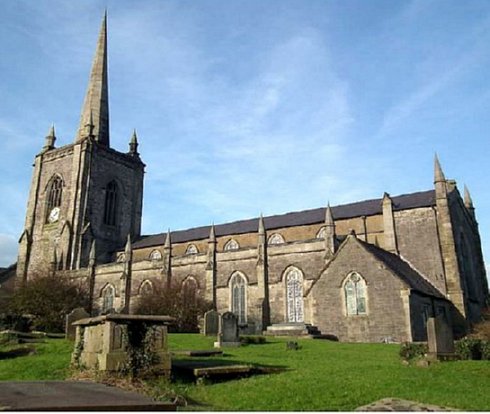 ---
---


Welcome to our website! Whether you are a regular member, occasional visitor or just simply curious, we hope you will find information here that will be interesting and relevant. Perhaps you are planning a trip to Northern Ireland. We would strongly advise making beautiful County Fermanagh part of your itinerary. During the summer our four-century-old church is open to visitors every day and it would be even nicer if you could attend one of our services. We'd love to meet you!
THE DEAN WRITES:



Dear Parishioners and Friends around the World,

Harvest Services are all about giving thanks and an opportunity to gather together and thank God for all that we have. At this
time of the year, as much as any other time, it is good to focus on what we need and what makes us happy. I say this because obviously we live in a society where instead of being thankful we are becoming more and more demanding. The more we have does not mean the happier we are. Often the more we have the more we seem to need!

One of the problems is that as we live in an affluent society, we become spoiled. Luxuries which we once deeply appreciated we begin to take for granted. We need to remind ourselves how fortunate we are, and become more content with less. Someone once said 'He is rich, not who has much, but he who has learned to be satisfied with less.'

At Harvest we celebrate the goodness of our God in providing to us the bounty of earth, sea, and sky - the goodness of God who grants to us both seedtime and harvest, the goodness of God who shares with us the love that is in His heart and calls us to likewise share.

Not all, but many have so much more than they need. We have not just daily bread but freezers full. So we must learn gratitude and sharing. No matter how poor we may seem, we all have some gift or contribution we can make for the betterment of others!

Of all we have or receive, the most precious thing is that God blesses us with an abundance of love; may we share that love with each other.

Yours very sincerely

Kenneth R J Hall
Last updated 17th October 2016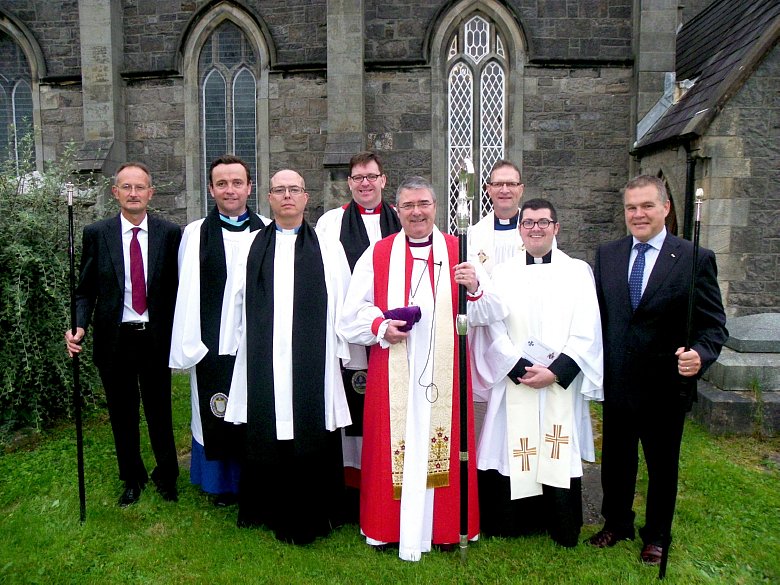 Pictured before the ordination service for Rev. Philip Bryson and Rev. Chris Mac Bruithin on Wednesday 7th September 2016, are (from left), Mr Noel Johnston (churchwarden), Rev. Canon Henry Blair, Rev. Philip Bryson, The Venerable Andrew J Forster (Archdeacon of Ardboe, Diocese of Armagh), Bishop John McDowell, Dean Kenneth Hall, Rev. Chris Mac Bruithin and Mr Jonathan Woods (churchwarden). Rev. Chris is to be the cathedral's new curate.
---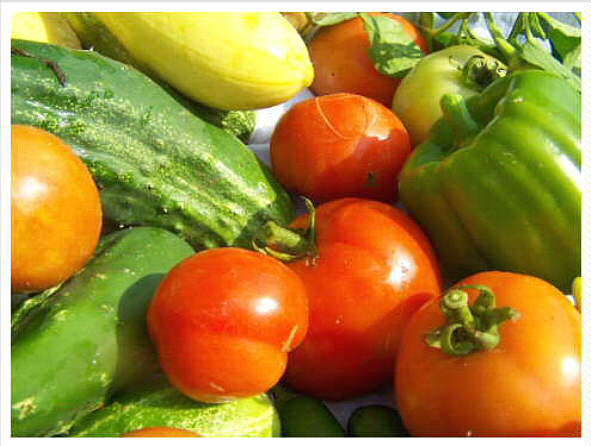 Harvest Thanksgiving Services
These well attended services took place on Sunday 9th October. To see the decorations, please click on the photo above.
Search for any word
on this website: