St. Macartin's Cathedral
Enniskillen
---


Last updated 30th September 2022
Search for any word
on this website:
Click here to view or download the current and old issues of "Cathedral News" - our monthly magazine
For people of faith in these difficult times, listening to Christian music, or better still, watching it being performed on line, is very uplifting - a real spiritual experience. During the Coronavirus crisis, we introduced a page carrying links to music videos which we hope will be a blessing to all. You can access the page by clicking HERE
The Dean Writes:

Dear Parishioners and friends around the world,

It was with great sadness that we heard of the death of Queen Elizabeth II on Thursday 8th September, and we pray for
King Charles III – both as he mourns the death of his mother and settles into the hugely demanding role of being our King.
Over this past month, we have heard – time and time again – of Her Late Majesty's faith: the witness she bore to her faith,
and the actions that sprung from her faith – her love of her country, her devotion to duty, and her desire for reconciliation.

The reign of the Queen was not a performance, but rather the character of one who lived up to the oaths she took. While so much of her life was dominated by protocol and civil duties, we recognise that she set something quite different before us. For seventy years, through turbulence and change, she has sustained the qualities we admire, and remained the person we respect. She promised at her Coronation to devote her life to principle, not power; to law, to justice, to mercy, and to faith. She kept her promise; she ran the race. It was sustained and it was demanding. It could be truly said in those words of St Paul to Timothy: 'I have fought the good fight; I have finished the race; I have kept the faith.' Can the same be said of us concerning our faith? At baptism, we became a member of Christ and a child of God, with a promise to continue on the Christian journey and a prayer that we may bear witness to Christ by a life of service to others. Queen Elizabeth certainly kept the faith and bore witness to Christ by a life of service to others. We should follow her example. She always endeavoured to look at the world with the eyes of Christ.

During this Harvest Season as we look around us, it is my prayer that we will see through new eyes each day the ways God has blessed us and never take God or those blessings for granted. This year, as we celebrate the Harvest Thanksgiving, may we each see God for who he really is and see ourselves for who we really are. People who have been blessed beyond measure need to give thanks to the Giver of all good gifts, and give a little more to those in need. We often don't realise how blessed we are - and hence how thankful we ought to be - until what we have is threatened to be taken away. With the rising prices of almost everything, including food and heating bills, we as a church need to reach out to those in need. We have already started that process by recycling School Uniforms, opening our Cathedral Halls on Tuesdays to allow parishioners to save on heating bills, and holding Supper at Six to provide a substantial meal. Another way to help would be to provide some food for Enniskillen Food Bank (see the article on page 7), as well as to contribute to our Harvest Appeal.

During this Harvest Season, may we take time to reflect and to enjoy all that God has given us. Harvest Thanksgiving means nothing until you give back to God the gratitude due to him; we need to offer thanks by singing to and about him, praying to him, giving all that we have to him – including our talents, abilities, possessions, opportunities, and most importantly our presence in his Church. We need to commit ourselves to be his faithful disciples, and never take God for granted; for such was the pattern set by Her Late Majesty Queen Elizabeth II.

Yours very sincerely
On-line Streaming of Services on YouTube
Welcome to our website! To be sure you are looking at the latest update, please reload/refresh the page NOW!
A refresh button is found close to the top of a webpage and looks something like one of these, but smaller. Just click on it to reload the page.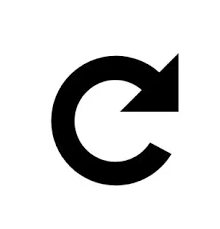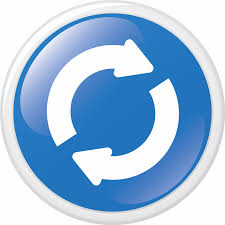 ---
Streaming of each Sunday morning service starts at 10.55am on Sunday mornings - if you see no pictures after that time, refresh/reload the YouTube Page - look for a refresh button at the top looking something like one of these: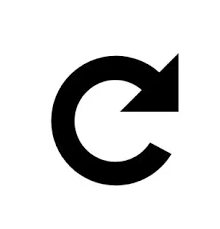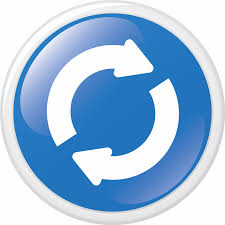 It is possible to download the text of the morning service (browser permitting) by clicking
HERE
---
We are surprised and delighted to see the interest in our services on-line, not only in our own country but also in foreign lands. There may be those who would like to make a donation towards the heavy costs entailed in maintaining the cathedral and to this end, we have set up an account with PayPal. Those who wish to contribute are normally invited to use the following button. For a number of reasons, this has not been operational for some time, but we are pleased to report that it is once again operational.

Please note that this PayPal link should only be used by visitors to this website who are NOT registered members of our cathedral community, but wish to so kindly make a donation. If you are a church member, we would respectfully ask that you donate directly by other means.
---
Please note that our archive links (services, weddings,
funerals etc are now hosted on a separate page. Click on the picture to the left to access.
And view recordings of three Christmas services by clicking on the buttons on the right.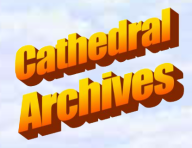 The Church of Ireland's Daily Worship app brings content from the Book of Common Prayer and the Bible to your computer, smartphone or tablet, displaying readings and liturgies for each day of the year. Using it, you can grow in relationship with God through daily prayer and also by reading and meditating on Scripture. Click on the icon above to view on PC, or the app can be downloaded from Google Play or the Apple Store.

---
During 2021, the Church of Ireland Bishops' Appeal released funds to support Covid relief efforts in India and also in Haiti following a devastating earthquake. And now the crisis in Ukraine has displaced numerous refugees in need of support by relief agencies and the Bishops' Appeal seeks urgent donations to go towards such humanitarian work. Individuals and parishes are invited to contribute to support these and other efforts. Taxpayers in the U.K. can give more help by "Gift Aiding" donations. For more details and to read a special press release, click on the Ukrainian flag here.

When the service is over, it can still be viewed for six days using this button, before being archived.
---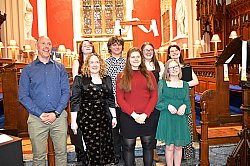 On Friday evening 29th April, our choral scholars presented an excellent concert of religious and secular music, having been trained and encouraged by their musical director David Robertson and supplemented by leading choir member Jane McKinley. The concert was designed as part of the fund-raising efforts towards the restoration of the cathedral's fine organ. We were really pleased by the financial generosity of the audience but we still have a long way to go. David has set up a "JustGiving" page where donations can be made on-line and can be accessed by clicking on the photograph here, which was taken after the concert.
(A larger photo can be seen in our archives)
---

---
---
The enthronement of the Right Rev. Dr Ian
Ellis as Anglican Bishop of Clogher took place
at 7pm in our cathedral on Sunday evening
25th September. Unfortunately the live
stream suddenly terminated towards the end
of the service, but a full recording is now on-line. Just click on the bishop's photograph to view.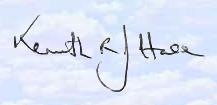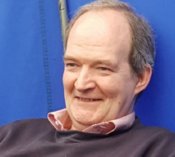 The following invitation has been received relating to the late David McElderry who was responsible for expert maintenance of our cathedral organ among his many tasks.

The Rector and Church Wardens of St George's Parish Church, Belfast, invite you to attend a Choral Evensong, on Sunday 2nd October 2022, at 5 pm. This service will commemorate David McElderry's life and celebrate the important contribution he made both to St George's and to the world of organ building. For those unable to attend in person, this service will be relayed on Facebook. (click on David's photo). David died in February 2021.